Office of the Provost
Provost's Office Monthly – June 2023


MESSAGE FROM THE PROVOST
The Storrs campus is certainly quieter in summer than term-time, but there are still many things happening here, as there are at all our campuses.
The first thing that's happening is – nature! The Storrs campus looks beautiful, with colorful flowers, lush green lawns, and the extraordinary trees of our campus arboretum in full leaf.  Colleagues have shared photos of songbirds and raptors, a doe and fawn on the lawn near Whetten, and, of course, picturesque cows on Horsebarn Hill. At this time of year I especially appreciate everything our colleagues in Buildings and Grounds do to make our campuses attractive and welcoming.
The natural beauty of the campus serves as a backdrop for many special events and gatherings – summer classes, orientation sessions, camps, conferences, and more. The number of events has rebounded somewhat this summer but has still not reached pre-Covid levels. In the last newsletter I asked for suggestions for summer programming, and many thanks to all those who forwarded ideas.  We want each of our campuses to be a vibrant place of learning, researching, and gathering throughout the year.
In mid-June I attended the opening of The Husky Robotics Invitational, a high school robotics competition sponsored by Engineering's department of Electrical and Computer Engineering, the UConn FIRST Club, and the Armored Artemises, a high-school robotics team based in Glastonbury. Teams came from as far away as Pennsylvania to compete and the level of energy and enthusiasm in McHugh Hall was fantastic. Many faculty, staff, and students contributed to making this event a success, and it was a terrific opportunity to support young engineers and showcase our School of Engineering.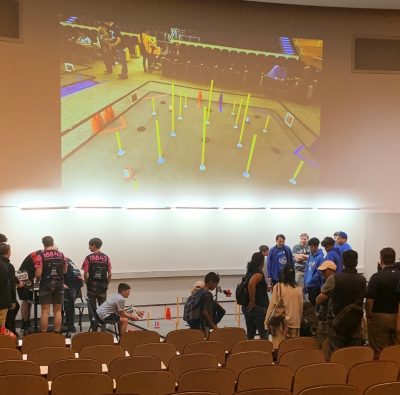 The summer is a busy time not only for its own events, but for the preparation we do for the coming year. I'm especially grateful for the university staff who work throughout the summer to ready our facilities and programs to welcome students in August.
Just as I finished writing this, we've all learned of a new challenge for which we must prepare: the two decisions by the Supreme Court striking down affirmative action programs in college admissions. There is much to process in these decisions, but UConn's commitment to the diversity in community that is essential to our work is unwavering. I encourage you to read and share the message shared by President Maric yesterday following these decisions.
All best wishes,
Anne
Synchrony JEDI Research Faculty Fellow
The Office for Diversity and Inclusion is seeking a Faculty Fellow for the upcoming year to be a part of the Synchrony Equity-Focused Student Success Initiative designed to increase rates of student success for students of color, low-income, and other student populations traditionally minoritized in higher education. One area of focus within this initiative is to enhance faculty and student research to support inclusive student experiences at UConn.
Toward this goal, UConn will fund and centralize a new Justice, Equity, Diversity, & Inclusion (JEDI) Research focus for fellows and minoritized undergraduate students: This initiative will allow the faculty fellow and students to engage in research that works with minoritized students to understand what programs are working and which ones need to be developed to meet the needs of these students. The inaugural Synchrony JEDI Faculty Fellow will be located at the UConn Hartford campus but work with students from the Stamford and Waterbury campuses as well.
Academic Impressions
As part of our ongoing efforts to ensure that each member of our university community, including UConn and UConn Health, as information and guidance to feel supported and to thrive, we are pleased to share that we are expanding our commitment to provide high-quality professional development resources for our faculty and staff through a new institutional-wide membership with Academic Impressions.
Information on gaining access, UConn Picks, and more is available on UConn's Academic Impressions website.
South Campus Infrastructure Construction Starting
The start of the South Campus Infrastructure Project is planned to start on July 7, 2023.
The intent of this project is to provide infrastructure improvements in the South Campus district to support the construction and sustainable operation of the South Campus Residence Hall. The overall scope of this project will provide renewable infrastructure to the new South Campus Residence Hall and includes new utilities including steam, electric, hot and chilled water, communications, sanitary, stormwater, and domestic water for the South Campus Residence Hall, and expansion of the South Campus Chiller Plant to accommodate a new geothermal heating and cooling system and to meet the needs of the Residence Hall.
To accommodate this work the following road closures are necessary. Starting July 12th, the following road impacts will begin and continue through the middle of August.
Mansfield Road will be CLOSED from Coventry Road to Whitney Road
Gilbert Road will be CLOSED from Mansfield to Whitney Road Extension
Whitney Road Extension will be converted to two-way traffic to facilitate traffic to the detoured portions of Mansfield Road
Please follow all detours accordingly
As always also please reference the Construction Activity Map for campus wide construction impacts.
Fall Opening
Mid-June marks the end of the school year for many of our local schools, the peak of new student orientation, and the pivotal moment for planning the upcoming academic year. This past spring, a cross-divisional group of professionals gathered to plan the opening of the fall 2023 semester at the Storrs campus. The principal goals included creating a sense of belonging and an atmosphere of welcome for our new and returning students. To achieve this, the University will come together to contribute to what we are referring to as Fall Opening at the Storrs campus.
Ship to Home Guidelines from Purchasing
In March 2020, due to the Covid-19 pandemic, the University issued guidance on shipping various goods to employee residences in the State of Connecticut.  While the pandemic is over, the University is experiencing an increase in hybrid and fully remote working employees and faces additional challenges regarding the most efficient ways to procure goods for these employees.  This announcement outlines procedures for purchasing and distributing these goods in various scenarios.
UConn Stamford Launches Eatery Meal Plan
UConn Stamford has launched the Local Eatery Meal Plan for the Fall 2023 semester. This new program will allow UConn students to purchase blocks of meals for use at off-campus, independent restaurants surrounding the Stamford campus. The participating restaurants will provide healthy, well-balanced options for UConn students taking part in the program. Each meal will consist of a main dish, a side, and a beverage and can be redeemed during the restaurant's normal hours of operation. Unused meals will carry over from semester to semester and will remain active until the student graduates, separates from the University, or the cost per meal increases. The meal blocks are now available for purchase for the Fall 2023 semester through July 15th, 2023.
School of Fine Arts Dean Search
A national search is underway to identify candidates to lead the School of Fine Arts. This search is chaired by Kazem Kazerounian, Dean of the School of Engineering and Professor of Mechanical Engineering. Applications are being collected through September 1, 2023.
2022-2023 Board of Trustees Distinguished Professors
Three exceptional scholars at the University of Connecticut have been awarded the highest honor the university bestows on its faculty, the Board of Trustees Distinguished Professor.
Each year, the Office of the Provost seeks nominations from across UConn for the newest cohort of Board of Trustees Distinguished Professors. Candidates must excel in all three areas of research, teaching, and public engagement. A committee of faculty is charged by the Provost's Office to review and select each year's honorees from among a competitive pool of nominees.
Honorees retain the title of Board of Trustees Distinguished Professor throughout their career at UConn and receive a $2,500 one-year stipend to be used by each recipient to further their professional activities. The number of available professorships each year is determined by the University by-laws. The Board of Trustees approved the latest cohort of honorees at its June 28 meeting.
The recipients for 2022-23 are as follows, with more detailed biographical information below.
Douglas J. Casa, Professor, Department of Kinesiology; Director, Athletic Training Education; Chief Executive Officer, Korey Stringer Institute; Research Associate, Human Performance Laboratory
Lewis Gordon, Professor and Head, Department of Philosophy
Bandana Purkayastha, Professor of Sociology and Asian and Asian American Studies; Associate Dean for Social Sciences, Regional Campuses, and Community Engagement
"It's a pleasure to recognize the extraordinary accomplishments of Professors Casa, Gordon, and Purkayastha through their appointment as Board of Trustees Distinguished Professors. They are not only outstanding scholars but also dedicated teachers who have mentored and inspired our students. Each of them is also a catalyst for change beyond the university, using their expertise to address societal and health challenges," said UConn Provost Anne D'Alleva.
Douglas J. Casa
Douglas Casa has demonstrated a level of scholarly productivity that has led to an international reputation as one of the world's leading experts in exertional heat stroke, hydration, thermal physiology, sport performance monitoring, maximizing performance in the heat, sport safety, and public policy regarding the prevention of sudden death during physical activity for the athlete, warfighter, and laborer. The work of Casa has not only added to our fundamental scientific understanding in these areas but has impacted policy and quality-of-care changes globally to establish widely used guidelines and practices that have not only improved performance and made physical activity safer but have directly saved thousands of lives. As a scholar, there are four main areas in which Casa has demonstrated, and exceeded in many cases, the university standards of scholarly excellence: 1) innovation and impact; 2) collaborations; 3) funding success; and 4) publication and public recognition. As an example, Casa has been a PI on 18 Department of Defense-funded grants in the past 6 years. UConn's Korey Stringer Institute (KSI) was established by Casa at the specific request of Kelci Stringer, whose husband Korey Stringer died a tragic and preventable death from exertional heat stroke during a football practice in 2001 with the Minnesota Vikings. The NFL, Gatorade, and UConn joined KSI as the founding partners when the Institute's doors opened in 2010. The mission of KSI is to provide research, education, advocacy, and consultation to maximize performance, optimize safety, and prevent sudden death for the athlete, warfighter, and laborer.  Casa is the CEO of KSI and, with the assistance of an incredible team, has grown the organization to about 80 staff (25 paid and 55 volunteers), Casa has approximately 400 refereed publications and chapters in edited books, seven books, and over 600 presentations (national and international). The innovative and impactful nature of the organization that Casa has created is unarguable and in many diverse ways, it has had a broad-reaching positive ripple effect of scientific, service, and educational influence.
Casa has been affiliated with the Department of Kinesiology and its Athletic Training Education program for over 20 years. He has provided mentorship for their master's and doctoral students as well as graduate-level exercise science students. In both his individual teaching and role in educational leadership and administration, he has improved teaching at University of Connecticut in multiple ways. Casa has individually taught 24 courses in exercise science and athletic training. For the athletic training program alone, Casa developed 14 new classes and drove the change in its curriculum that resulted in the first-ever accreditation of the athletic training education program at UConn, a program that continues to thrive 20 years later. His continued success as a teacher is demonstrated by the quality of his SET feedback each semester and the uniqueness of the course offerings at UConn thanks to his expertise and creativity in teaching.
Lewis Gordon
Lewis Gordon is one of the most important and highly regarded intellectuals in the world writing on anti-racism and Africana philosophy. He is internationally recognized as the leading contributor to the fields of Black existentialism, Africana Existential Phenomenology, Fanon studies, Teleological Studies of Disciplinarity (a field he invented), Decolonialism, and Afro-Jewish Studies. His original theories have generated widely discussed concepts such as "bad faith embodiment," "epistemic closure," "disciplinary decadence," and "shifting the geography of reason," among many others.
Gordon is the author of 12 books, editor and co-editor of 6 anthologies, and the author of over 100 articles in academic journals, 79 book chapters, and over 39 introductions, forewords, and afterwords. His work has been translated into over two dozen languages. His seminal first book, "Bad Faith and Anti-Black Racism" is widely regarded as a classic in the study of existential philosophy and racism, while his recent "Fear of Black Consciousness" has been hailed by Judith Butler as expanding our understanding of "how race consciousness is made and lived." The latter has received coverage and press in dozens of newspapers and radio media across the globe, including in Publishers Weekly. Considered together, Gordon's works constitute a significant and original vision of the human condition and consciousness.
As a teacher, Gordon is a recognized innovator and leader—internationally and at UConn—in the movement to make philosophy and the humanities a more inclusive subject. Gordon's courses integrate sources from ancient through contemporary Africa, Latin America, and Native America. This has attracted a diverse group of African and Latin American students to philosophy—especially at UConn. Thus, for example, at the undergraduate level, his introductory course, Phil 1106, started with 35 students in his first semester teaching it in 2014; it has since grown into a highly sought-over 370-student lecture course. Moreover, Gordon has designed a number of new courses for the philosophy department's curriculum, including seminars on Africana Philosophy, Global Southern Phenomenologies, Global Existentialism, Race in the Formation of Human Science, Phenomenology, Philosophy of Psychoanalysis, and Philosophy of Social Science.
Beyond his extensive service to the University, Gordon is on the editorial board of many journals, book series, and a news outlet (one of which won the 2021 Izzy Award for Independent Media). His work as an institution-builder includes founding Radical Philosophy Review, for which he was the first executive editor and for which he edited 6 volumes. The 26th volume of that journal is now at-press. He co-founded the Caribbean Philosophical Association in 2003, for which he was the first president. He founded Temple University's Center for Afro-Jewish Studies, and its Institute for the Study of Race and Social Thought; and at Brown University, he founded the Department of Africana Studies, for which he was the first chairperson. He serves as an evaluator for the MacArthur, Ford, Newcombe, South African Research Council, and ACLS fellowships.
Bandana Purkayastha
Purkayastha's research focuses on the structures of inequalities and social transformation, with specific focus on migrants and migration, gender and intersectionality from a global perspective, and critical human rights. A prolific scholar, with a current tally of 15 books, 36 peer reviewed articles, 35 chapters, and many other publications that reach across the world. Eagerness to engage with her ideas are evident through her long list of invited talks in the US and across the world, as well as the invitations to share her expertise for policy purposes by WHO (on migrant women and health) and diverse United Nations (UN) offices (including on violence against women and forced migration). A brilliant sociologist, she has been at the forefront of challenging global conceptual and methodological hierarchies, including between the Global North and South, that act as barriers to robust and meaningful social science research.
Significant disciplinary accolades as well as international recognition of her expertise are testimonies to her national and global scholarly prominence. In 2019, she was awarded the highest honor from the American Sociological Association [ASA], the Jessie Bernard Award, which is given "in recognition of scholarly work, inclusive of research teaching, mentoring and service, that has enlarged the horizons of sociology to encompass fully the role of women in society."  She continues to publish on racism and gendering structures that affect migrants. Her recent work on trafficking and other victims of forced migration, and her theoretical perspective on voluntary and forced migration, was featured by UN-IOM in 2022.
Purkayastha's teaching record reflects her commitment to international, interdisciplinary, teaching and mentoring. Her commitment is to engage students in an intellectual feast while making sure they are well supported to grow as people who are mindful of equity and justice, and the inherent humanity of others. During her time at UConn she has developed and taught seven graduate and undergraduate courses, and co-developed three others to fill department needs. These courses all meet diversity, international, and interdisciplinary initiatives of the university. Her courses are cross-listed with, or serve the requirements of Asia and Asian American Studies (AASI), Human Rights, India Studies, and Women's Gender and Sexuality Studies. She has been a champion of using multiple methods for teaching and a consistent and enthusiastic early adopter of new technologies. Over the years she has used her national and global networks and leadership positions to bring outstanding scholars and prominent leaders to the university to enrich UConn's educational offerings.
Provost's Outstanding Service Award
The Provost's Outstanding Service Award is designed to honor faculty whose service to UConn is exemplary and has made an indelible impact in one or more areas to enhance the University's mission in teaching, research, service, or engagement. We are pleased to announce the awardee for 2023: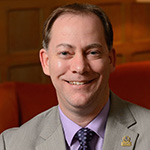 IMPORTANT DATES, DEADLINES & EVENTS
Dates
July 4 – Independence Day (no classes)
August 23 – New Faculty Orientation (in-person, Storrs)
August 24 – New Associate Dean/Department Head Orientation (virtual)
August 24 – Conferral Date for Summer 2023 Degrees
Provost Summit for Student Success
At the end of the spring semester, Provost Anne D'Alleva hosted a Summit on Student Success attended by over 30 academic leaders from across the university.  Participants included Deans, Program Directors, Vice Provosts, the Directors of CETL, Honors, Student Success, Career Center, and Advising, as well as faculty and university staff from across the Storrs and regional campuses.  The Student Success Summit provided many opportunities for participants to learn about and discuss both new and existing challenges and opportunities that students, staff and faculty all encounter as we work collectively to support student success at UConn.  The goal of the Summit was to discuss and Identify UConn's most effective programs and practices that contribute to our students' overall success both now and in the future, as well as to develop plans for continuation and expansion of these programs and practices and finally, to draft a 3-5 year plan to wholistically support student success at UConn that will be widely shared for discussion in the fall.
It was clear from the many discussions at the Summit that UConn's staff and faculty care deeply about student's success in academics as well as personal lives.  Our discussions about student success were particularly meaningful in the ways that our staff and faculty connect with and support our students. A number of innovative ideas were raised ways to involve even more faculty and staff in grass roots and collaborative efforts to support our students.  For example, we discussed ways that we can increase faculty and staff work with FYE courses (a very important factor in student success), as well as ways to motivate more faculty and staff to volunteer to serve as UConn Connects Mentors and to lead Learning Communities, two of our most successful practices for increasing student success.
Also discussed was the important role of advising, of focusing on reduction in students failing and withdrawing from courses as well as ways to help faculty respond to the needs of diverse learners. The many ways about how faculty can include diverse perspectives in curricula and class discussion was also a fascinating topic from the Summit. Look for more information and a summary of our work in a future edition of this newsletter in the future and if any of you are interested in volunteering to work with us on student success, please contact us at that time.