Office of the Provost
Provost's Office Monthly – July 2023


MESSAGE FROM THE PROVOST
July has been a month to welcome many visitors to our campuses. It was wonderful to host the 45th Confratute Conference (in person once again!) at Storrs.  I've enjoyed running into these passionate educators as they pursue their different conference strands focused on enriched learning and gifted and talented learners. All our campuses are hosting visitors and special events – an engineering conference for high school and college researchers at Avery Point was a recent highlight. Two weeks ago I enjoyed teaching a class for and meeting with a group of students visiting from East China Normal University. They were highly motivated students who embraced the UConn experience – from classes across a variety of subjects to field trips to the Dairy Bar.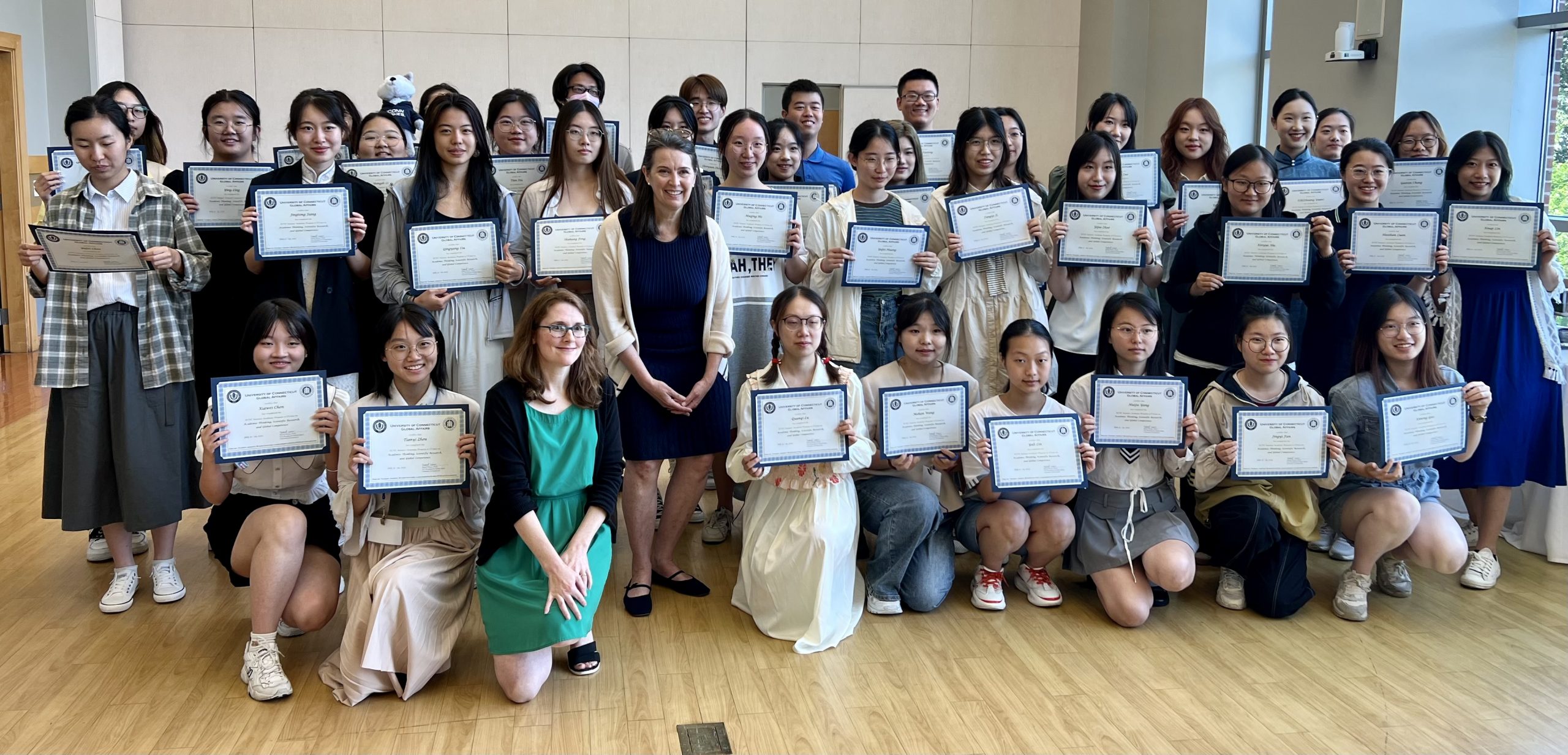 Across our campuses we've shifted into high gear as we prepare for the upcoming academic year. Renovation projects are moving apace, new faculty are beginning to arrive, and the first students will start returning for Marching Band Camp and early orientations in just a couple of weeks.
As we engage in this summer work of preparation and renewal, I want to take a moment to acknowledge the remarkable contributions of our professional staff to our university.  Our staff, from administrators to support personnel, work diligently to ensure the smooth functioning of our university. They are the pillars that uphold our operations – running programs, maintaining campus facilities, and providing essential services that enhance the overall experience for our UConn community.
Beyond their essential responsibilities, so many of our staff go above and beyond to create a welcoming and nurturing environment for our students. They support our students' academic journey, offer guidance, and foster a sense of belonging that enables them to thrive. When I was Dean of the School of Fine Arts, we often asked our graduating students about the person who had had the most impact on them. As often as students named a faculty member, they named a staff member, and they frequently shared sincere gratitude for the support they received from a kind and dedicated person who helped solve a problem or cheered them on through challenges.
So, as we take a deep breath and get ready to begin the new semester, let me share a heartfelt thank you to the staff who do so much to contribute to the University's success! I'll ask our students and faculty to take an extra moment when they come back to campus to join me in thanking a staff person who has made a difference for them.
All best wishes,
Anne
Syllabi Updates for Fall 2023
This past year, UConn has made two significant policy changes that have impact to our students. We request that you update your syllabi to reflect the below policies that students should be aware of. All syllabi reference link information can be found on the Provost's website.
Academic Integrity
Effective August 28, 2023 the UConn has revised its Academic Integrity policy for Graduate and Undergraduate Students to ensure compliance with current regulations and best practices.  This revision reflects our ongoing commitment to providing an inclusive and equitable learning   environment for all our students.
The updated policy can be accessed on the Policy website and contains the specific changes and additions that have been made.
Discrimination, Harassment, and Related Interpersonal Violence
Effective July 11, 2023, UConn approved the Policy Against Discrimination, Harassment, and Related Interpersonal Violence. This policy includes sexual and gender-based harassment, sexual assault, sexual exploitation, intimate partner violence, stalking, complicity, retaliation and inappropriate amorous relationships and applies to students, employees, contractors, vendors, visitors, guests and other third parties.
HuskyCT Personalization Options: Pronouns and Name Pronunciation
Students, faculty, and staff may personalize their profile in HuskyCT to include preferred pronouns, name pronunciation (audio) and phonetic spelling of a name. These profile personalization features are always displayed alongside a person's name card and almost everywhere in the system that a person's avatar can be seen. Particularly, clicking on someone's name card in course view, assessments, the roster and gradebook, communication tools, and all groups, will allow users to see phonetic name spellings, a playback of a person's name pronounced correctly, and personal preferred pronouns. Click here to learn more about how to access personal customizations in HuskyCT.
Sign-up to participate in Fall Opening
Fall Opening is an opportunity for us to showcase to our new and returning students and their families the vibrant and diverse community that makes up UConn. Many of our staff work tirelessly all year to plan for a smooth, efficient, and welcoming move-in process, and your time and energy to support the success of the weekend is greatly appreciated. Building a sense of community and belonging among our new and returning students is essential to their success.
Leaders in Academic Affairs, Student Affairs, Enrollment Management, and other areas will be seeking both required and voluntary participation during Fall Opening, beginning as soon as August 18, for early arrivals, through the busy period of move-in between Thursday, August 24 – Sunday, August 27. Assignments will primarily involve greeting students with a welcoming smile, providing directions at parking lots or information tents, and otherwise spreading the goodwill and Husky spirit that we know makes our community special.
UConn Migrating to Microsoft 365
Recently ITS announced the intended migration of all UConn accounts to Microsoft 365. All active students, incoming and returning, will have their email and calendaring on Google this academic year.  ITS will begin to migrate data stored on Google to Microsoft 365 after the Spring 2024 Semester ends.  Alumni will receive notifications this summer to move their files to personal storage solutions by April 2024.
Associate Director of Outreach and Engagement
The Office of Outreach and Engagement is hiring an Associate Director of Outreach and Engagement. Reporting to the Director of Outreach and Engagement, this position is responsible for a number of key programmatic initiatives on behalf of the director and O&E, serving as the lead on several program services and activities across the University.
IMPORTANT DATES, DEADLINES & EVENTS
Dates
August 23 – New Faculty Orientation (in-person, Storrs)
August 24 – New Associate Dean/Department Head Orientation (virtual)
August 24 – Conferral Date for Summer 2023 Degrees
August 28 – First day of Fall 2023 classes
New Associate Dean and Department Head Orientation
Each year, the Office of the Provost holds an orientation session for newly appointed deans and department heads. This session is held prior to the start of the academic year and occasionally in January for newly appointed academic leadership hired outside of the usual hiring cycle. The Fall 2023 orientation session will take place virtually on Thursday, August 24th from 9 a.m. - 3:30 p.m. New Associate Deans and Department Heads should RSVP by August 17th and email a headshot to michelle.everard@uconn.edu. Topics for the orientation include an overview of the role, University policy, and campus resources; the agenda will be sent to participants to RSVP in advance of the orientation.