Office of the Provost
Provost's Office Monthly – April 2023


MESSAGE FROM THE PROVOST
The month of April has certainly been busy for all of us – it's a mix of events to close out the academic year, events to welcome a new class of students, and a rush of meetings to finish up the tasks and goals of the year.
Earlier this week we held the first meeting of the Strategic Planning Steering Committee. Lloyd Blanchard, Pamir Alpay and I will be co-chairing this process in partnership with Anna Pond, an external consultant who will help guide us to develop a strong and actionable strategic plan for the University. I am excited to build on the vision President Maric has set and am invested in creating a plan that aligns our priorities and values with resources to support the advancement of our beloved UConn. The committee had a terrific opening discussion of our goals and the need for a "One UConn" approach to the plan. I'll use this space in the coming months to update you on our progress.
We also held a Trustee-Administration-Faculty-Student (TAFS) meeting this month, with a focus on undergraduate student success. The University Bylaws establish this TAFS committee with the goal of creating a space for representatives of the university community to come together to discuss issues of importance. We had a presentation from Dr. Tadarrayl Starke, Associate Vice Provost for Student Success, and a robust conversation around current and planned programming to promote student engagement and academic success.
I had the opportunity to spend a day at the Avery Point Campus meeting with faculty, students, and staff. I appreciated the honest and thoughtful discussions I had with many individuals throughout the day surrounding issues like building enrollment, resource and space constraints, and academic program offerings. I plan to continue visiting each of our campuses on a regular basis so I can put focus on supporting the UConn experience across all areas of the State.
I attended the Undergraduate Research Presentations and Mentorship Excellence Awards hosted by the Office of Undergraduate Research (OUR) and was so impressed by the creativity and brilliance of our undergraduate researchers. This event takes place at both Storrs and Stamford, with opportunities for students from all campuses to participate. Programs like this are essential to providing a life-transformative experience for our students. None of this would be possible without the leaders of OUR and the many faculty and staff who serve as mentors for these students.
Finally, I would be remiss if I did not mention the lunch that was prepared for me by students in Nutritional Science 3271: Food Services Systems Management. They were required to plan, cost out, quantify, and cook a three-course meal in CAHNR's teaching kitchen, and I was thrilled to participate! The meal was vegetarian and absolutely delicious, especially a Peruvian appetizer of roasted potatoes with a spiced tomato salsa.
There are many more things I could mention but won't try to be exhaustive. I am grateful to everyone for their hard work as we wrap up this semester and get ready for the summer, and look forward to celebrating Commencement Weekend with you!
All best,
Anne
UConn's Newest Living/Learning Community Launching Fall 2023

Officially launched with a celebration on April 27th, the newly established BSOUL House (a Learning Community in support of Black Sisters Optimizing Unity & Leadership) is designed to support the scholastic efforts of female students who identify as African American/Black through academic and social/emotional support, access to research opportunities, and professional development. BSOUL House is open to first- and second-year female undergraduates interested in engaging in courses and co-curricular activities related to the experience of Black females in higher education. For more information, visit https://LC.uconn.edu/.
Interfolio Review, Promotion & Tenure (RPT)
UConn has implemented Interfolio's Review, Promotion & Tenure module for the submission and review of all promotion, tenure, and midpoint review cases for the AY 23-24 PTR cycle. Interfolio RPT is a secure, online workflow platform that provides customizable tools to manage all of the documents, workflows, committees, communication, and outcomes associated with review-based academic decisions.
We thank you all for your engagement, enthusiasm, and input as we've worked over the past year to configure this new system and prepare for its launch. As of this month, departmental system administrators may now begin creating cases within RPT for faculty who will be coming up for promotion (both tenure track and non-tenure track), tenure, or midpoint review in the 23-24 PTR cycle utilizing the department- and action-specific templates.
Reading Days
Reading Days are Saturday and Sunday, April 29 and April 30. Per the University Senate By-Laws, the intent of Reading Days is as follows:
Reading Days are protected time for students to prepare for the final exam and assessment period. Instructors shall not require any course-related activity, assessment, or submission of work on Reading Days. Instructors may use Reading Days for optional activities, such as office hours. While an instructor cannot initiate required course-related activity, assessments, or submission of work on Reading Days, instructors have the option to accommodate student requests for required work and/or examinations to be rescheduled for a Reading Day. Reading Days restrictions do not include responsibilities with external placements, such as clinical positions and internships.
Final Exams
Final exams begin on Monday, May 1, and end on Saturday, May 6.
Final in-class examinations may not be given during the last week of classes. Other types of assessments (for example, but not only, portfolios, performances, projects, presentations, etc.) may be due in the last week of classes, but should be clearly delineated on the syllabus from the first week of classes.
Undergraduate students may request rescheduling for an exam through the Dean of Students Office for the Storrs campus or each regional campus student services office, and as early as possible. The reasons for such a request include bunched finals or other extenuating circumstances. Such bunched finals may include final assessments like juried performances for Fine Arts students. A student whose absence is excused by the Dean of Students Office or regional student services staff shall have an opportunity to take a final without penalty. Please consult the Dean of Students website and the Registrar's website for further details.
UNESCO ChatGPT Quick Start Guide
UNESCO has developed a ChatGPT quick start guide to provide an overview of how ChatGPT works and explains how it can be used in higher education. The Quick Start Guide raises some of the main challenges and ethical implications of AI in higher education and offers practical steps that higher education institutions can take. This Quick Start Guide was published in April 2023. Artificial Intelligence (AI) is a rapidly developing field. This guide is based on GPT-3.5, the latest free version of ChatGPT available at the time of writing. As well as dynamic changes in technology, the ethical implications of ChatGPT and other forms of AI are also swiftly advancing. Readers are advised to constantly check reliable sources for the latest news and updates.
https://www.iesalc.unesco.org/wp-content/uploads/2023/04/ChatGPT-and-Artificial-Intelligence-in-higher-education-Quick-Start-guide_EN_FINAL.pdf
Victoria Vaughan Dickson Named Dean of UConn School of Nursing
Victoria Vaughan Dickson, PhD, RN, FAHA, FHFSA, FAAN has been appointed as the next Dean of the School of Nursing. She will begin this new role on August 1, 2023.
Dr. Dickson has demonstrated a deep understanding of our School of Nursing's needs and will bring the necessary leadership and vision to continue the school's extraordinary achievements across teaching, research and engagement. She is committed to fostering a diverse, equitable and inclusive environment for the School and will facilitate interdisciplinary collaborations across the University.
CLAS Dean Juli Wade
Juli Wade, who has served as Dean of the College of Liberal Arts (CLAS) and Sciences since 2019, has accepted the position of Executive Dean of the School of Arts and Sciences at Rutgers University.
Throughout the last four years, Juli has provided great leadership for CLAS and its many units including the newly established School of Public Policy, 24 departments and 13 centers and institutes. Juli led the development of the CLAS strategic plan with collaborative involvement by faculty, staff and students across the college. She has guided CLAS through significant growth, including expanding academic program offerings, increasing research expenditures, and strategic hiring.
Juli has also been a strong advocate of diversity, equity and inclusion work in CLAS and across the University. She hired the first Associate Dean for Diversity, Equity and Inclusion in CLAS and has supported numerous initiatives to foster a supportive and inclusive environment in the University's largest college.
Beginning July 1, 2023, Ofer Harel, currently Associate Dean for Research and Graduate Affairs, will serve as the Interim Dean of CLAS. Ofer formerly served as the Director of Graduate Admissions in the Department of Statistics and is a Professor of Statistics. I'm grateful to Ofer for his willingness to serve in this role and am confident in his ability to lead CLAS and drive progress in supporting the academic mission and promoting research and innovation.
School of Fine Arts Dean Search
The Office of the Provost will launch a search to identify the next dean of the School of Fine Arts, chaired by Kazem Kazerounian, Dean of the School of Engineering.  Listening sessions will take place the week of May 1st. Details on listening sessions dates, committee membership, and candidate information will all be available online here.
New Training for State Employees: Understanding Domestic Violence
During the 2022 legislative session, the Connecticut General Assembly passed, and the Governor signed Public Act 22-82.  This legislation requires all state agencies to provide to all employees one hour of training and education related to domestic violence and the resources available to victims of domestic violence.
To comply with this state requirement, the Office of Institutional Equity prepared a self-paced online video presentation available through the Learning@Work system.  Employees will be receiving direct communication from Learning@Work with instructions on how to fulfill this training requirement.  This training must be completed by July 1, 2023.
UConn and UConn Health are committed to maintaining a safe, inclusive, and non-discriminatory learning and working environment for all members of our community.  UConn and UConn Health are also committed to ensuring our employees are equipped with information, support and assistance.
Please contact the Office of Institutional Equity at (860) 486-2943 or equity@uconn.edu for questions or concerns.  Information about resources can be found on the University's Title IX website (www.titleix.uconn.edu).
Celebrating Promotion & Tenure of 96 Faculty
At their meeting on April 19th, the Board of Trustees approved the promotion and tenure of 96 faculty across UConn's multiple campuses. Evaluations for promotion, tenure, and reappointment apply the highest standards of professional achievement in scholarship, teaching, and service for each faculty member evaluated. Applications for promotion and tenure are reviewed at the department level, school or college level, and finally at the Office of the Provost before recommendations are forwarded to the Board of Trustees. This process involves significant work on the part of each faculty member, as well as assistance and support of colleagues and administrative staff who provide guidance and manage many of the logistics through each stage of the promotion and tenure cycle. It is a notable milestone for each faculty member awarded these promotions, as well as for their colleagues. View the listing of faculty promoted and/or granted tenure here.
2023 Commencement Speakers and Honorary Degree Recipients
From business success to civil rights, from fine art to visionary mathematics, the honored guests of UConn's commencement ceremonies bring a wealth of experience, insight, and wisdom to share with this year's graduates.
Executive Leader Onboarding
Another session of the Executive Leader Onboarding series was held on Thursday, March 30th at the UConn Health campus in Farmington. Senior administrators participated in dynamic discussions with Human Resource leadership at UConn and UConn Health about services and resources offered and current projects. Additionally, senior leaders participated in a Predictive Index assessment to understand how their leaderships styles can help control workplace outcomes and steer their teams in the right direction with confidence and empathy. Interim CEO of UConn Health and Dean of the UConn School of Medicine Dr. Bruce Liang presented on the highlights of UConn Health and its facilities as the campus has undergone a major transformation over the past decade due to the State's investment in the Bioscience Connecticut initiative. Senior leaders also participated in a UConn Health campus tour, including student learning and training labs, new research labs, and the renovated medical and dental clinical facilities that continue to provide exceptional patient care and training for medical and dental professionals in Connecticut.
IMPORTANT DATES, DEADLINES & EVENTS
Dates
April 28: Last Day of Spring Classes
April 29 & 30: Reading Days
May 1 - May 6: Final Exams
May 6 - May 8: Commencement Ceremonies
May 9: Semester Grades due 4pm
Spring 2023 Commencement Ceremonies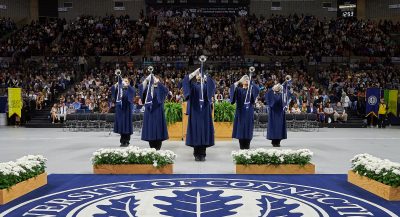 Ceremonies will be held on Saturday, May 6, 2023, Sunday, May 7, 2023, and Monday, May 8, 2023. The Law School ceremony will take place on Sunday, May 14, 2023. The full schedule of ceremonies is posted on the May Commencement page. Congratulations to all who will be graduating or who have worked hard alongside our graduates to reach this important day!
Save the Date: Staff Technology Day
Tuesday, June 6, 2023


Every day, new applications and features emerge that change how we work. Embrace these updates, and technology can be your greatest ally in the workplace.
That's why Information Technology Services, in partnership with the Office of the Provost and Office of the Vice President for Information Technology, has created a professional development opportunity for all UConn staff. We want to share information, resources, and support so that you can take advantage of the technology available to you.
Upcoming Governor's Council on Women and Girls Panel re Firefighters
Wednesday, May 3, 2023
Next week, Wednesday, May 3rd from 10am to 11am via Zoom, the Governor's Council on Women and Girls will host a panel discussion on women firefighters. Moderated by Lieutenant Governor Susan Bysiewicz, the panel will discuss their path to their current roles, experience thus far, how we can increase the pipeline for more women as firefighters, and much more. Although the panel consists of all women with a focus of increasing the voices of women in the topic selected, all members of the general public are welcome to attend. If you're interested in this topic but unable to attend, a recording will be posted online here following the event.
LEARN MORE & REGISTER https://provost.uconn.edu/wp-content/uploads/sites/2165/2023/04/CoWaG-Firefighter-Panel-Flyer-FINAL.png