Office of the Provost
Celebrating Promotion and Tenure Awards, 2021-22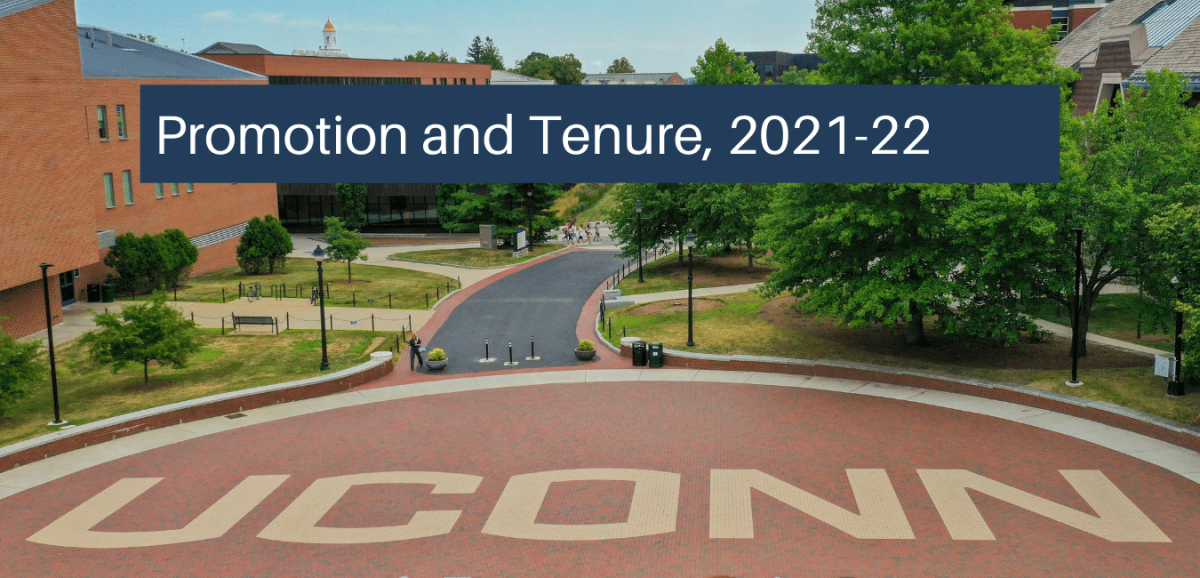 Dear Colleagues,
I write you all today in the spirit of celebration. I am very pleased to share that the Board of Trustees approved on April 28 the award of tenure and/or promotion to 72 individuals across the Storrs and regional campuses.
This is a notable milestone for each faculty member awarded these promotions. I congratulate each of them on this culmination of many years of dedication to their disciplines, the advancement of knowledge, and service to UConn and the broader community. They are a credit to UConn's reputation as a leading global research university.
Applications for promotion and tenure are reviewed at the department level, school or college level, and finally at the Office of the Provost before recommendations are forwarded to the Board of Trustees. This process involves significant work on the part of each faculty member, as well as assistance and support of colleagues and administrative staff who provide guidance and manage many of the logistics through each stage of the promotion and tenure cycle.
The awards of promotion and tenure are listed below, by school or college. Please join us in congratulating your colleagues who have been awarded this year.
Sincerely,
Carl
Carl Lejuez
Provost and Executive Vice President for Academic Affairs
---
College of Agriculture, Health and Natural Resources
Promotion to Associate Professor with Tenure
Yangchao Luo, Nutritional Sciences
Promotion to Associate Extension Educator
Anoushka Concepcion, Extension
Jennifer Cushman, Extension
Promotion to Extension Educator
Laura Brown, Extension
Cary Chadwick, Extension
Promotion to Professor
Lindsay DiStefano, Kinesiology
Tricia Leahey, Allied Health Sciences
Promotion to Research Professor
Laijun Lai, Allied Health Sciences
---
School of Business
Promotion to Associate Professor with Tenure
Alina Lerman, Accounting
Jose Martinez, Finance
Steven Utke, Accounting
Promotion to Associate Professor In-Residence
Yaacov Kopeliovich, Finance
Promotion to Professor
David Souder, Management
David Weber, Accounting
---
Neag School of Education
Promotion to Associate Professor with Tenure
Milagros Castillo-Montoya, Educational Leadership
Kenny Nienhusser, Educational Leadership
Promotion to Professor
Robin Grenier, Educational Leadership
---
School of Engineering
Promotion to Associate Professor with Tenure
Kelly A. Burke, Chemical & Biomolecular Engineering
Bin Feng, Biomedical Engineering
Sheida Nabavi, Computer Science & Engineering
Xinyu Zhao, Mechanical Engineering
Promotion to Associate Professor In-Residence
David Giblin, Mechanical Engineering
David Kaputa, Biomedical Engineering
Jason Lee, Mechanical Engineering
Promotion to Professor
Jeongho Kim, Civil & Environmental Engineering
Helena Silva, Electrical & Computer Engineering
Yufeng Wu, Computer Science & Engineering
Tenure as Associate Professor
Syam Nukavarapu, Biomedical Engineering
---
School of Fine Arts
Promotion to Associate Professor with Tenure
Christina Bullard, Dramatic Arts
Heejoo Gwen Kim, Digital Media & Design
Promotion to Professor
Alexis Boylan, Art & Art History
---
College of Liberal Arts and Sciences
Promotion to Associate Professor with Tenure
Robert Bagchi, Ecology & Evolutionary Biology
Andrea Celli, Literatures, Cultures, & Languages
Ariel Lambe, History
Christin Munsch, Sociology
Jessica Rouge, Chemistry
Jonathan Trump, Physics
HaiYing Wang, Statistics
Ryan Watson, Human Development & Family Sciences
Jill Wegrzyn, Ecology & Evolutionary Biology
Eiling Yee, Psychological Sciences
Promotion to Associate Professor In-Residence
Laura Bunyan, Sociology
Miranda Davis, Ecology & Evolutionary Biology
Darcie Dennigan, English
Anthony Rizzie, Mathematics
Diego Valente, Physics
Promotion to Professor
Nathan Alder, Molecular and Cell Biology
Carol Atkinson-Palombo, Geography
Iddo Ben-Ari, Mathematics
Brendan Kane, History
Gustavus McLeod, Philosophy
Barbara Mellone, Molecular and Cell Biology
Emily Myers, Speech, Language, & Hearing Sciences
Spencer Nyholm, Molecular and Cell Biology
Jeremy Pressman, Political Science
Luke Rogers, Mathematics
Peter Schweitzer, Physics
Lynne Tirrell, Philosophy
Epapante (Penny) Vlahos, Marine Sciences
Promotion to Professor In-Residence
---
School of Nursing
Promotion to Associate Clinical Professor
Promotion to Clinical Professor
Annette Jakubisin Konicki
Annette Maruca
Promotion to Professor
Steven Kinsey
Natalie Shook
---
School of Pharmacy
Promotion to Clinical Professor
Jennifer Girotto, Pharmacy Practice
Lisa Holle, Pharmacy Practice
Promotion to Professor
Brian Aneskievich, Pharmaceutical Sciences
Kyle Hadden, Pharmaceutical Sciences
Nathaniel Rickles, Pharmacy Practice
---
School of Social Work
Promotion to Associate Professor with Tenure
Promotion to Professor