Office of the Provost
Meet Tadarrayl Starke: Associate Vice Provost for Student Success
September 4, 2020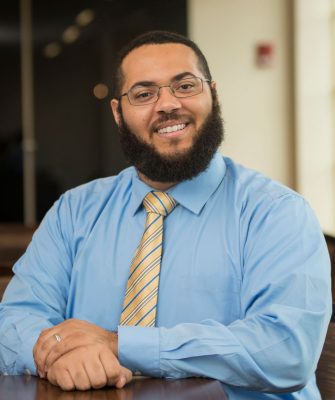 The University of Connecticut is pleased to welcome Tadarrayl Starke as the new Associate Vice Provost for Student Success. Starke began his position at UConn in mid-August after serving as the Director of the Center for Academic Retention and Enhancement at Florida State since 2011.
Starke oversees the Institute for Student Success (ISS), which is the focus point at UConn for success in the undergraduate experience, using mentoring, training, teaching, leadership, and community building. ISS provides one-on-one holistic support, strengthens student readiness, increases access to higher education and research opportunities, and promotes the recruitment, transition, retention, and graduation of UConn students.
A native of Jacksonville, Florida, Starke has been committed to student success for over 20 years, with an emphasis in serving students traditionally underrepresented in higher education like himself.
"I'm honored for the opportunity to serve and support our students at UConn through the Institute for Student Success," said Starke. "I'm equally excited for ISS to engage our entire campus community to build, develop, and continue life-transformative experiences and academic supportive networks for UConn student success."
Starke earned three degrees from Florida State – undergraduate in psychology in 2003, master's in higher education in 2010 and doctorate in higher education in 2019. He also earned a certificate in institutional research and a certificate in college teaching from FSU.
He has over 15 years of work with retention and academic support programs for students in a higher educational setting, both at the community college and four-year university levels. In total, Starke has over 20 years of programming experience in educational access, equity, and success in higher education.
"Tadarrayl brings an incredible depth of experience to this role, and will be an important partner in our drive to provide a life-transformative education to our undergraduates, in line with President Katsouleas's priorities," said Carl Lejuez, provost and executive vice president for academic affairs. "The programs within ISS are so critical for expanding access to higher education for more diverse populations of students. I am really pleased that Tadarrayl has joined us at UConn to lead these efforts."
While at Florida State University, Starke served as director and department chair of the FSU Center for Academic Retention & Enhancement (CARE), leading many of the school's efforts to encourage enrollment and persistence in higher education for first-generation, low-income, minority, and other student populations traditionally underrepresented in higher education.
In his role, Starke managed a team of over 300 staff members to coordinate efforts to facilitate student success and development initiatives for almost 1,800 first-generation and historically disadvantaged college students.
He was also responsible for a portfolio of access and postsecondary success programs and services, which included federal TRiO programs, the Unconquered Scholars Program for students from foster care and homeless backgrounds, the 400-plus student Summer Bridge Program, college academic advising and life coaching, financial literacy, graduate school preparation, academic support programming, the W.E.B. DuBois Honor Society, and the Hispanic Honor Society.
During his time at FSU, Starke secured over $10 million in grants and external funding to support student success efforts at the institution and managed an annual budget of almost $3 million.
Starke previously served as the program administrator and director for Take Stock in Children and the College Reach-Out Program at Tallahassee Community College, working to support low-income and underrepresented students reach their dream of a college education. He has also served as a pre-collegiate program consultant for Florida A&M and a volunteer coordinator for the City of Tallahassee Neighborhood, Parks, & Recreation Department.
Starke is supported by his wife of 14 years, Tiffany, and their two daughters, Trinity and Tristen. As a first-generation college graduate, Starke sees his work to support student success as his purpose and works to develop and support initiatives and structures related to access, educational equity, persistence, and graduation for all students, with a particular focus on first-generation college students and those historically underserved in higher education.